Europe is affected by the strengthening of extreme right-wing movements in recent years, which are present in parliaments as well as political parties in some countries, but also in other forms of social activities, including Germany, Hungary, Slovakia, Denmark, France, Austria, Sweden and Britain. Right wingers in these countries have succeeded in attracting a significant number of sympathizers and voters, and some parties are beginning to re-shape the political landscape in their countries. Indicated by many current events, and with the roots deep in history, the right has again found the way to the main social and political flows. With ideas based on Nazism, and upgraded with attitudes that can be associated with the current socio-political reality, neo-Nazis, white racists, the alt-right, anti-Semites, homophobes, and especially Islamophobes, have been very active since 2011. The response of the official policy and the media to the awakening of this phenomenon was not adequate to the proportion of the problem.
The main problem described by The Intercept in his article "… the far right represents a clear danger" is apologysm. Namely, numerous violent acts committed by right-wingers since the attack on the Sikh Temple in Wisconsin in 2012, through attacks on African-American Congregation Churches, such as the one from Charlston South Carolina in 2015, when 9 people were killed, the killing of two Hindus in February of this year, or many other attacks on Muslim and Jewish places of prayer, are characterized mainly as acts of an individual with mental health problems.
The number of attacks on Islamic religious sites is also on the rise, and the United States Civil Liberties Union (AUCL) states in its report that there have been 11 or more attacks on the mosques in 7 US states since 2005. It is similar to the Jewish community, where one US Today report states that in just one day Jewish centers and schools received 31 bomb treat calls. CNN reports that anti-Semitic attacks in the first three months of 2017 have increased by 86 percent.
A similar problem is in Europe, where the right is based on anti-immigration policies and based on the fear that immigrants may become dominant forces in Europe over time. The most illustrative example is a campaign in which €65.000 was raised to fund a ship that would prevent immigrants from reaching Europe, Newsweek reported. Similar activities have been taking place for a long time on the Hungarian border where a paramilitary right-wing militia of "immigrant hunters" was formed in the Assotthalom town with whom the International Business Times team spent some time in September last year. In Bulgaria, Daily Mail reports, right-wingers led by Dink Valeva have acquired a helicopter so they can track and capture refugees.
Valev said: "I see this as a sporting activity, and sport cannot be characterized as violence."
The inadequate response of politicians to the question of strengthening of the right-wing is one of the main factors why it is unduly strengthening. Not only  they did not distance themselves from these phenomena, but used them at certain times as part of their policy agenda, for example, Britain's UKIP policy makers. Their strategy to advocate the abandonment of the European Union, was based, inter alia, on the fear of migrants.
Taking this into account, together with the rhetoric of many politicians who were part of the right-wing forces, or who, in order to achieve their agenda have allied themselves with right-wingers, all this can be used to understand the latest developments from Charlottesville in the US state of Virginia. In those riots, one person was killed and 19 people were wounded at counter-protests organized in response to the gathering of white nationalists. Only after this significant escalation of the conflict, the media decided to devote due attention to these events. Because a certain number of students who gathered the day before to protest against racism were beaten, which did not attract significant media attention.
In his speech, the President of the Inter-Religious Alliance, Rabbi Jack Moline, said: "All political leaders must distance themselves from the events in Virginia. It is inconceivable that in 2017 groups of neo-Nazis with torches marched proudly and have shown the swastikas and flag of the Confederation".
The media also made a negative contribution by not putting enough emphasis on violence that racists were making. Recently, the public in Czech Republic was unpleasantly suprised after footage was posted where a father is training a five-year-old child to hit the doll which represented Roma people and Muslims.
Particularly surprising is the hatred and actions of individuals and organizations from the countries of the former eastern bloc (Poland, Czech Republic, Slovakia, Hungary and Bulgaria), which is directed towards migrants and Muslims. Although no incidents have been recorded in these countries in the past, there is no connection to the historical context, nor can such behavior be justified by the threat of terrorist attacks. That's why it's no surprise that one of the leaders of the protests and riots in the United States, is a 20-year-old student at the University of Nevada, Peter Cvjetanovic. A student of History and Political Science from Rhine in the United States of America, Nevada, arrived in Charlottesville, Virginia, to participate in protests titled Let's Unite the Right.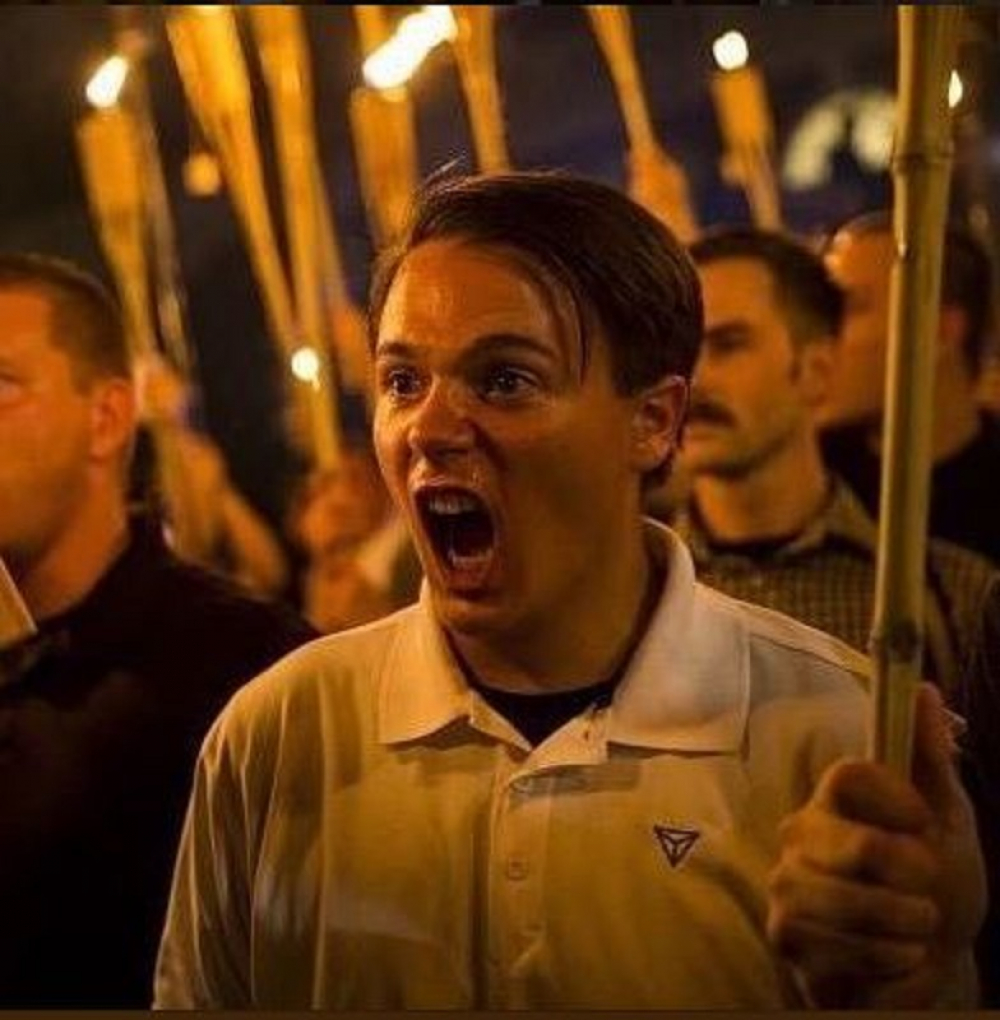 According to his Facebook profile, Cvjetanovic has Croatian origin, and this neo-Nazi, follow some right-wing groups on the Facebook, but also Croatian, such as the Croatian World Network CROWN.
To all of this, important information from survey done by British Independent in 2016, should be added, which states he number of right-hand accounts on Twitter is growing faster than the number of those favoring ISIL. The lack of condemnation in the media and the leading political figures has led to the right-wingers feeling comfortable in their activities.
In the end, addiction problems as well as the adrenaline challenge for young people should be added. A large number of people who for various reasons have been rejected by society are trying to become part of "something bigger" than themselves. While some young people in the west, from boredom or because of the good social situation they live in, seek escape from monotony, i.e. looking for new challenges. As with any radicalization, young right-wingers join extreme organizations from the desire to belong to something, from the desire to prove, and some from the hatred they bear to the generations, but all of them are further radicalized through the membership of right-wing organizations over time. All of this is very important for responding to this threat in Bosnia and Herzegovina and in surrounding countries. It's a thin line that divides from a seemingly ordinary concert of a right-handed singer, which brings together several thousand supporters and possible riots, where violence can easily get out of control. This is illustrated by an example from Virginia, where the authorities took all neccesary measures much earlier than scheduled protests. They even declared a state of emergency in order to engage additional forces in accordance with the law, and despite everything, the gathering still got out of control, summarizing with one death case and many injured people. However, this is happening in the most developed country of the world, which will quickly establish order and conduct an investigation.
Can you can imagine that something similar happen in Bosnia and Herzegovina, that gatherings of the right-wingers, even under the disguise of concerts and similar manifestations, turn into uncontrolled violent actions. What consequences  would be for the area where the riots would break out, and whether the security forces would adequately respond to violence and in which direction violence would escalate.
It is therefore very important that all segments of the society act in the direction of recognizing the activities of right-wing organizations. Special role is played by security and police agencies in assessing the activities of right-wing organizations and their general activities and gatherings. An important role is played by the media also, which do not need to give room for advertising right-wingers, their organizations and activities, but should condemn such events. Non-governmental organizations can act at the local level as well, especially in areas where right-wingers have been active for many years, and can also act at the state level through joint actions and projects, which would be maximally oriented toward the youngsters.